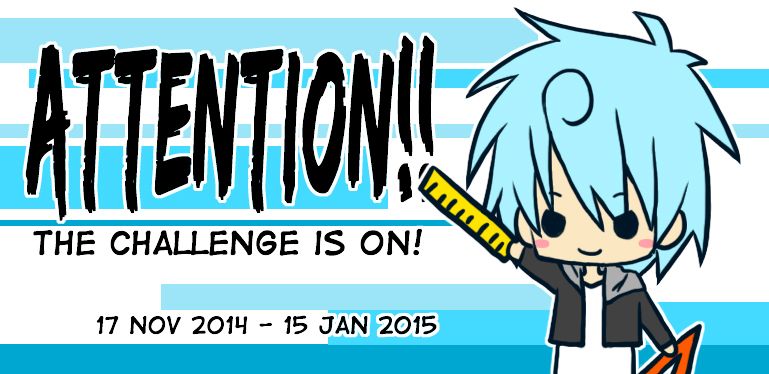 Calling all artists!! Today starts the 2014 MiniComi Art Contest~!! Aren't you excited? Winners will get the chance to have their work featured on MiniComi promotional items, and you will also get free tables to sell stuff too! Even if you are not using the tables yourself you can gift it to a friend~
Who can participate?
Anyone as long as you are interested!
Submission Requirements
Please read the following rules carefully. Entries that do not follow the rules will not be able to win.
1. Topic is free! As long as it contains our mascots: Mini (light brown twin-ponytail girl), Komi (light blue haired guy) and Origami Cat (no set colours and appearance, as long as it looks like an origami in the form of a cat).
2. Size requirements: minimum 8.5″x11″, maximum 11″x17″, 300 dpi/ppi.
3. Entries must be finished. No sketches are allowed. It can be black and white or coloured.
4. You must own the artwork you submit. Artists may be asked to provide proof (eg. the layered file) that the work is yours.
5. You are automatically disqualified if fanart of any copyright material is submitted.
6. Both electronic and traditional submission are accepted. For traditional work, please scan them at 300 dpi/ppi.
7. There is no limit to the number of entries you can enter, but each artist can only win once.
Prizes
1 GRAND WINNER: A FREE FULL table at MiniComi 2015.
2 RUNNER-UPS: A free half table or half price off a full table at MiniComi 2015.
There may be minor prices if you did not win the top prizes but your art work is used. Artists will be notified if that's the case.
How to submit
To submit your work, please email them to minicomivancouver[@]gmail.com with the subject "MiniComi 2015 Art Contest" or something self-explanatory. Please include your name and contact email.
Deadline
Submission deadline is January 15, 2015. Now you have the whole Christmas holidays to work on this XD
———————-
Questions? email us or post in the Facebook group.
We look forward to seeing your entries~!! Please help spread the word~